Yes! I would like to help elect Gretchen Quarterman to the Lowndes County Commission.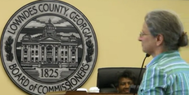 Donate online:

Print and Mail your Contribution to:
Gretchen Quarterman Campaign Account
PO Box 461
Hahira, GA 31632
If your donation is over $100, election ethics require us to disclose your occupation and employer so please remember to include that information.
Thank you!
—Gretchen Quarterman
Contact Information
229-834-1945
PO Box 461
Hahira GA 31632