She has interacted with the County Commission on rezoning notifications, wellhead protection, Comprehensive Plan updates, and waste management. She was appointed to the Zoning Board of Appeals (ZBOA) by Lowndes County in 2008 and 2011.
In 2008, Gretchen Quarterman was elected at the Lowndes County Democratic Caucus to serve on the Lowndes County Democratic Party (LCDP) Commitee. She is currently serving a two year term as LCDP Chairman. At each monthly meeting she invites a speaker, among them the executive directors of Parks and Rec and of the Industrial Authority.
This fall Gretchen was inducted into Valdosta Rotary Club.
She is also a member of the Valdosta-Lowndes County Chamber of Commerce and the Lake Park Area Chamber of Commerce. She is a founding member of the WWALS Watershed Coalition, and of LAKE, the Lowndes Area Knowledge Exchange.
Gretchen Quarterman lives in northern Lowndes County with her husband John on the land he grew up on.
Gretchen and John were married in Lowndes County in 1993 and moved here permanently in 2007. Gretchen has focused her time at home in our county on farming, reforestation, and enjoying the out of doors at Okra Paradise Farms.
Gretchen is a Georgia Master Gardener. She volunteers regularly at the Lowndes County Extension, helping the County Agent with many home owner concerns. She sells vegetables at the Valdosta Farm Days and sometimes at the Hahira Farmers Market at the Caboose.
Raised in Western New York, in the Buffalo/Niagara area, Gretchen worked at the University at Buffalo managing university computing infrastructure, and wrote a book about hiring appropriate people. She also has worked with a wide variety of people as a consultant and as an officer of an Internet start up company, solving problems with an open mind.
Gretchen Quarterman running for commission chair,
by David S. Rodock, VDT, 8 May 2012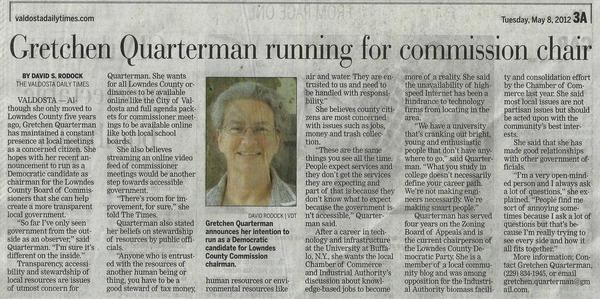 Gretchen Quarterman candidate questionnaire, VDT, 29 July 2012